1995 Plymouth Neon-ND
Phase I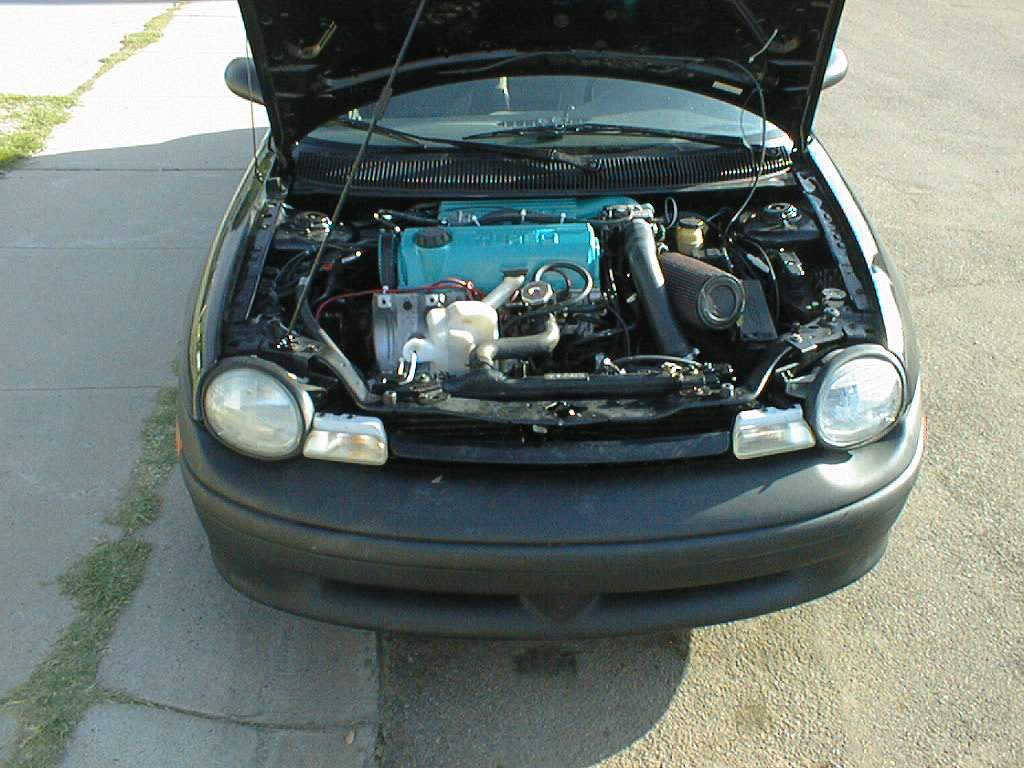 Well, here it is! These pics were taken literally hours after the car could drive on its own. Unfortunately, these are the only pics I have of the car in this form. If you have more, please let me know! As you can see, we couldn't fit the coolant overflow bottle in place correctly (big turbo in the way of it back there), there's no A/C hooked up, and other oddities. Here's a rundown of what was in the car:
1991 Common Block 2.2
1991 Turbo III Crankshaft
1991 Turbo III Connecting Rods (.927" Pin)
1990 Turbo IV Balance Shafts
.030" Venolia forged Pistons
Ported Head
1990 Turbo IV Camshaft
TEC Modified VNT Turbo (360° Thrust Bearing, S60 Compressor, etc)
2.5" Exhaust
Audi Intercooler
Walbro 255 l/hr Fuel Pump
MP +20% Injectors
3 Bar MAP Sensor
1990 Turbo IV/ND Performance Electronics
ACE Custom Torque Converter w/Lockup
Custom Built A413 Automatic
G-Body Axles/Bearings/Hubs
Jamex Struts/Springs
Shelby Centurion II Wheels
More!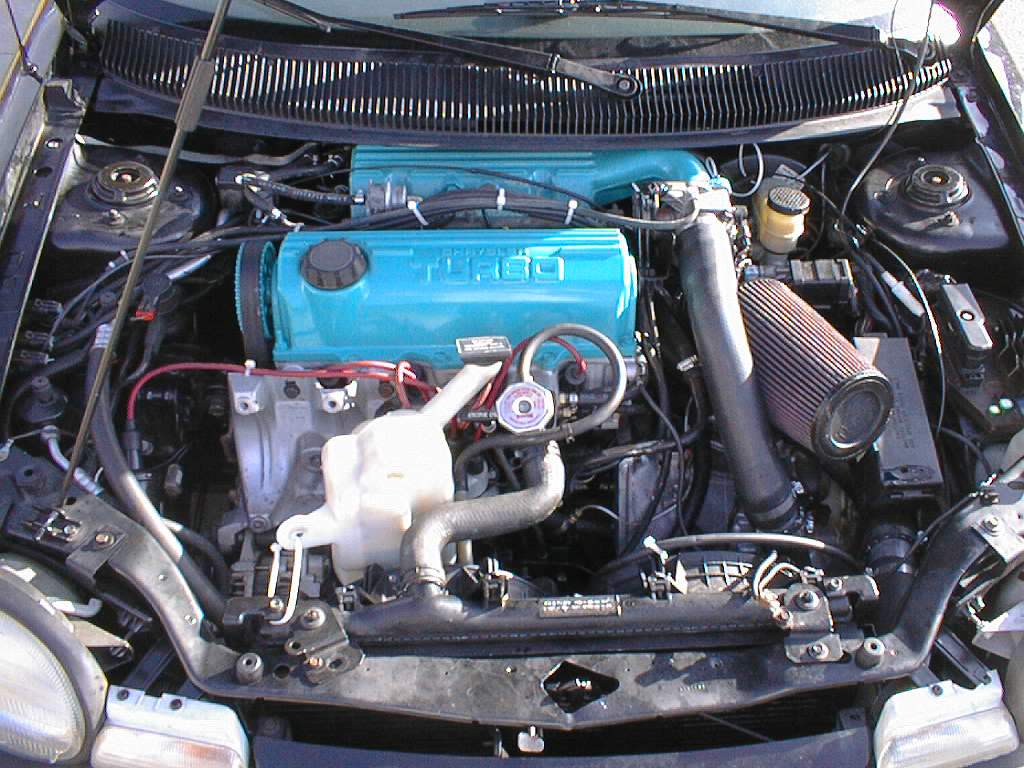 Driveability of this setup was fairly good. It did have a few drawbacks. Since we were in Phoenix, and it was now getting to be summer (~110° most days!), the car was overheating all of the time. I got the A/C put together, did some other tidying up, and got the electronics more or less straightened out. The flat steel hood would not close, and in total frustration one night (did I mention that we had been working for months on this at this point?), I took a ballpeen hammer to the underside, and whacked it 'till it would close. Applied a bit of Krylon, and we were styling. I got many strange looks at traffic lights. "What happened?", people would ask. "Rough northern winters", was my usual answer! I took it to a couple of SCCA Autocrosses, and one of the guys named the car 'Rumplehoodskin'. Well, that stuck for a while. I was really seeing the inferior quality of my Jamex struts/springs at this point, and knew I needed improvements in the handling department. I had a few races (most notably against a big block 'Vette). Soon after this, I romped on the car one day, and then got clicking....then clacking...then lots of noise. The engine destroyed itself. It was all over for this fresh engine at 3800 miles. I was so angry with it, I walked away from it for two months.
Page 3
BACK